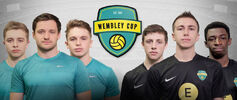 The 2015 charity football match (known as The Wembley Cup), was a minor event involving the Sidemen, taking place in the summer of 2015 and organised by Spencer FC.
Match Overview
Edit
Sidemen United
Edit
Sidemen United was a football team created purposely for The Wembley Cup match against Spencer FC in summer 2015. Five out of the seven Sidemen were a part of this team.
For their first and only appearance on a football pitch, Sidemen United lost 5-2.
Spencer FC Players
Edit