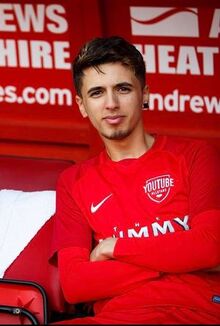 Josh Larkin, (born July 13, 1994 (1994-07-13) [age 24]) known online as TheBurntChip, is a British YouTuber who has over 1 million subscribers, who has also had multiple appearances alongside the Sidemen in recent months - in particular with wroetoshaw and miniminter.
Biography
Edit
Josh started YouTube on 21 October 2012.
He was originally participating in the 2016 charity football match, playing on the YouTube Allstars team. On 1 June 2016, he was replaced by JMX, due to the death of his grandad.
Josh lives in the Stratford Halo Tower.