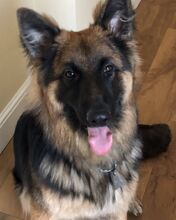 Tank
is the pet dog of the Olatunji family.
ComedyShortsGamer
(Deji) got Tank for views, however, came to love the dog as he would a member of his family.
Tank is a German Sheppard. He was a puppy when the Olatunji family brought him home.
Initially Tank was scared of JJ.
On September 2nd 2018, Deji released a video stating the police had seised Tank in order to train him as a police dog. This was due to an incident with a neighbor, who came on the property to pick up a package that had been delivered to Deji's house. The neighbor proceeded to attack Tank by hitting him with the parcel, before Tank nipped her leg.