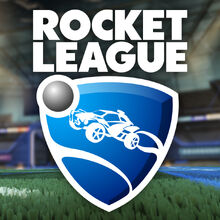 Rocket League is a physics-based vehicular soccer game that was released in July 2015 for PlayStation 4 and Microsoft Windows, with a release on the Xbox One slated for February 2016, and additional releases on OS X (Mac) and Linux that have yet to be finalized. It is a sequel to the 2008 game Supersonic Acrobatic Rocket-Powered Battle Cars (aka SARPBC, SARP Battle Cars, or Battle Cars).
Sidemen affiliations
Edit
All of the Sidemen except Harry have played the game on their channels, although Harry did play it as part of the 2015 Legends of Gaming competition. Out of those that have played the game on their channels, JJ is the only one to have not made a series out of it.
Description
Edit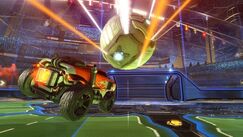 The game runs on players controlling rocket-powered cars that they use to hit a ball larger than the cars towards the other team's goal to score points, in a way that resembles a compound of soccer and demolition derby. Several months after release, game developer/publisher Psyonix released an update for the game that adds "mutators" that modify gameplay aspects (gravity, ball size, ball speed, bounciness, etc). For the Christmas 2015, a second update was released that added an ice hockey mode played on an ice rink, and turned the ball into a hockey puck.