The Range Rover Evoque is the car that was owned by Wroetoshaw until he got his new car, the Ferrari 458. He then gave it to Calfreezy.
The Land Rover-produced vehicle specifically owned by Harry is notable for its chrome wrapping on what is typically considered an (otherwise expensive) utilitarian vehicle. The crossover SUV typically costs around £40,000.
Background
Edit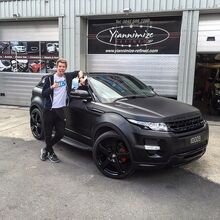 Harry owned the Evoque for a year. He purchased it during the summer of 2014, where it was revealed to be chrome-wrapped. Later in November 2014, Harry made a video saying that he had sold the SUV and showed off his "new car", a Ferrari 458 (again chrome-wrapped, but in a rose-coloured tint). A few weeks later, he admitted that he lied to his subscribers and the Ferrari did not belong to him. He then revealed that he still had the Evoque, but it was rewrapped with a gold tint on the chrome; his fans would criticise the new colour for being "tacky".
After just a year of driving the Evoque, Harry sold it to Calfreezy. Cal re-wrapped the car for the third time, making its current incarnation matte black. Harry admitted in the introduction video of his new car that he thought it looked awesome, and that he was jealous of it, now that he sold it.
Community content is available under
CC-BY-SA
unless otherwise noted.