The Adder Gang is the name that four of the seven Sidemen gave themselves whilst racing in Grand Theft Auto V until 2015. The name refers to the fictional car (the Truffade Adder, which is inspired by the Bugatti Veyron) that they control.
They raced against the Zentorno Gang.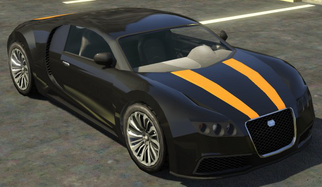 The name originated when all seven Sidemen regularly played Grand Theft Auto V together. In order to "spice things up", they split themselves up into two groups. Whilst occasionally working as a team against the Zentorno Gang, the Adders used to be very competitive within the ranks. Often, certain members would betray or sabotage their team-mates whilst secretly "working" for the opposition.
The four members of the Adder Gang are:
The Sidemen then played almost exclusively in Adders for supercar races when KSI and Wroetoshaw stopped playing Grand Theft Auto V on a frequent basis, until the Pegassi Osiris and the Progen T20 came out as new DLC cars.
External links
Edit